Established in 2007, for the fifth anniversary of the Foundation, the Bruno Zevi Prize for a historical-critical essay on architecture is an international competition to award a prize for a historical-critical essay offering an original analysis of an architectural work, theme or architect of the past or present.
The Bruno Zevi Prize is open to PhD researchers and is divided into five sections corresponding with the following themes:
the key role of space in architecture;
the ancient sources of modern language;
history as a methodology of architectural practice;
the modern language of architecture;
landscape and the zero-degree language of architecture.
The Prize consists of the publication of the essay by the Bruno Zevi Foundation. The author of the winning essay will be invited to give a lecture in Rome in occasion of the conferment award.
THE BRUNO ZEVI PRIZE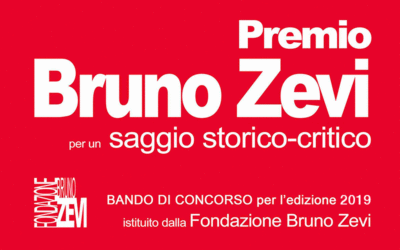 (Italiano) Bando di concorso 2019 per il Premio annuale della Fondazione Bruno Zevi –
PER UN SAGGIO STORICO-CRITICO SULL'ARCHITETTURA – 13a Edizione
read more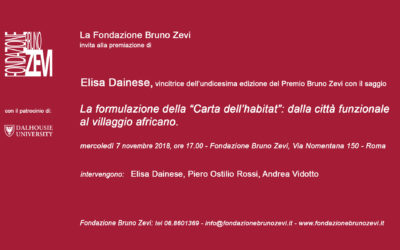 (Italiano) La Fondazione Bruno Zevi invita alla premiazione di Elisa Dainese, vincitrice dell'undicesima edizione del Premio Bruno Zevi con il saggio La formulazione della "Carta dell'habitat": dalla città funzionale al villaggio africano.
read more