BRUNO ZEVI FOUNDATION ANNUAL AWARD 2023 – ROME FOR A HISTORICAL-CRITICAL ESSAY ON ARCHITECTURE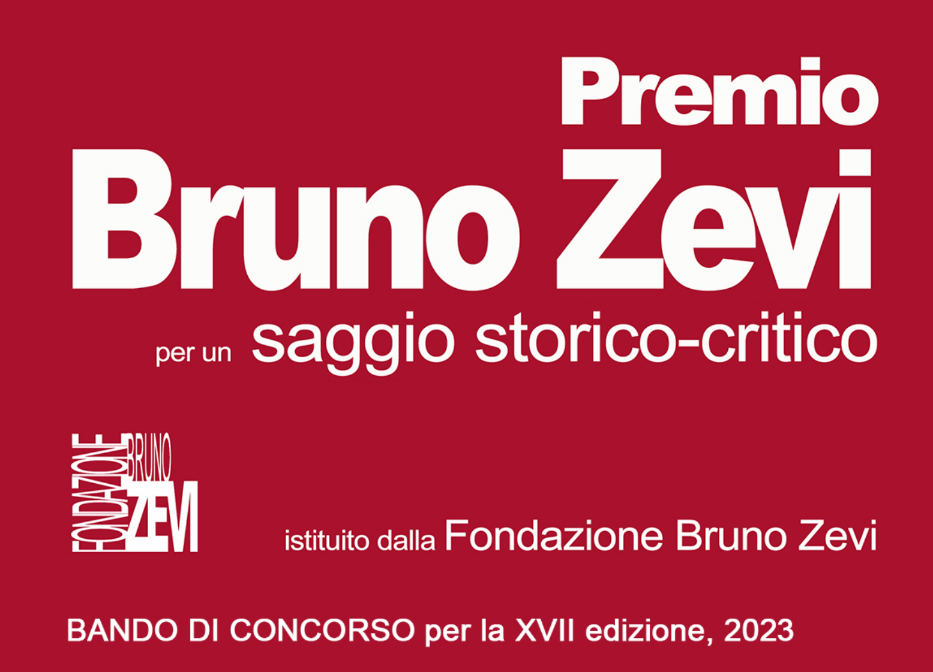 BANDO DI CONCORSO per la XVII edizione, 2023 
Art. 1 La Fondazione Bruno Zevi, allo scopo di sviluppare e diffondere l'insegnamento di Bruno Zevi e del suo metodo di indagine critica e storica, bandisce un concorso internazionale per l'assegnazione di un Premio per un saggio storico-critico che analizzi con originalità un'opera, una tematica architettonica, o un architetto del presente o del passato. 
II Premio si articola in cinque sezioni, corrispondenti alle seguenti tematiche:
– lo spazio protagonista dell'architettura;
– le matrici antiche del linguaggio moderno;
– la storia come metodologia del fare architettonico;
– il linguaggio moderno dell'architettura;
– paesaggistica e linguaggio grado zero dell'architettura. 
Art. 2 II Concorso è aperto ai dottori di ricerca che abbiano conseguito il titolo tra il 2013 e il 2023.
Art. 3 Il saggio non deve essere stato già pubblicato.
Art. 4 Le lingue ammesse sono italiano, inglese, francese. I saggi in lingua italiana e francese devono essere accompagnati dalla versione in lingua inglese.
Art. 5 Il premio consiste nella pubblicazione del saggio e nell'invito a tenere una conferenza a Roma in occasione della premiazione.
Art. 6 Il premio è bandito con cadenza annuale.
Art. 7 La Commissione giudicatrice è rinnovata ogni anno. Per questa edizione è composta da: Alessandra Battisti, Manolo Guerci, Mônica Junqueira de Camargo, Jean François Lejeune, Annalisa Metta.
Art. 8 I candidati che intendano partecipare al concorso devono far pervenire alla Fondazione Bruno Zevi, Via Nomentana 150, 00162 Roma, entro il 10 ottobre 2023 (farà fede il timbro postale), la seguente documentazione:
a) domanda di partecipazione scaricabile sul sito www.fondazionebrunozevi.it, sezione Premio, debitamente compilata.
LINK AL MODULO DI DOMANDA IN FORMATO PDF
LINK AL MODULO DI DOMANDA IN FROMATO RTF

b) testo integrale del saggio (max. 80.000 battute apparati compresi) e non più di 15 illustrazioni, su flash drive USB e in copia cartacea (la copia digitale dovrà indicare solo il titolo e non il nome dell'autore); 

c) abstract del testo (1000 battute). 
Si richiede inoltre l'invio di tutta la documentazione tramite posta elettronica all'indirizzo:
info@fondazionebrunozevi.it. 
Art. 9 I saggi inviati per il Concorso, che non hanno ottenuto il premio, non verranno restituiti; un esemplare verrà catalogato e conservato nello specifico fondo della Biblioteca della Fondazione Bruno Zevi, a disposizione degli utenti della stessa.
Art. 10 La data della premiazione sarà comunicata al vincitore tramite email e resa pubblica, insieme al nome del vincitore del premio, sul sito www.fondazionebrunozevi.it. 
Roma, 17 luglio 2023 
Il Presidente della Fondazione Bruno Zevi
Adachiara Zevi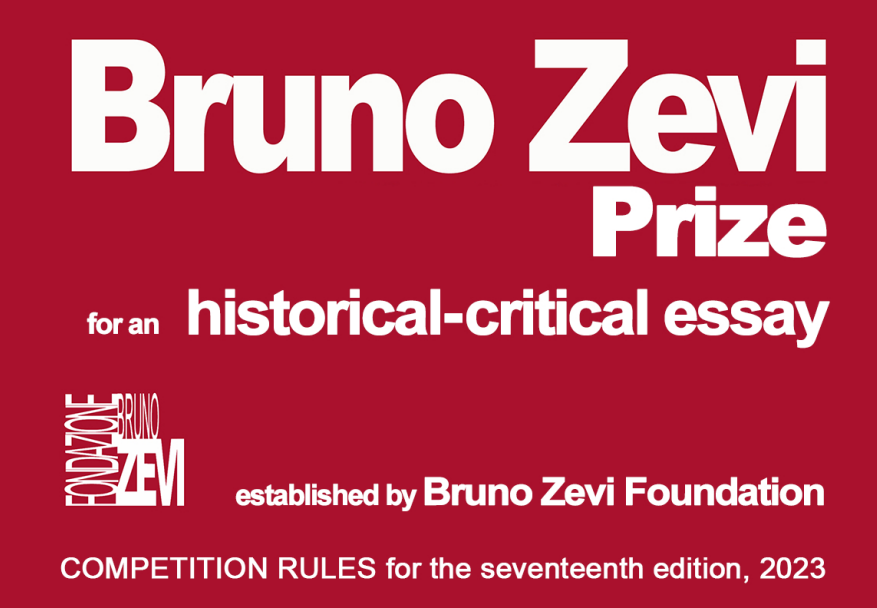 COMPETITION RULES for the seventeenth edition, 2023
Art. 1 With a view to developing and disseminating the teachings of Bruno Zevi and his method of critical and historical inquiry, the Bruno Zevi Foundation annually holds an international
competition to award a prize for an historical-critical essay offering an original analysis of an architectural work, theme or architect of the past or present.
The competition is divided into five sections corresponding with the following themes:
– the key role of space in architecture;
– the ancient sources of modern language;
– history as a methodology of architectural practice;
– the modern language of architecture;
– landscape and the zero-degree language of architecture.
Art. 2 The competition is open to PhD researchers who have obtained the title between 2013 and 2023.
Art. 3 Essays previously published are not eligible.
Art. 4 Essays may be submitted in Italian, English and French. Essays written in Italian and French must be accompanied by an English version.
Art. 5 The Prize consists of the essay's publication. The author of the winning essay will be invited to give a lecture at a conference in Rome at an award ceremony.
Art. 6 The Prize is awarded annually.
Art. 7 The jury is renewed every year. The members of this year's jury are:
Alessandra Battisti, Manolo Guerci, Mônica Junqueira de Camargo, Jean François Lejeune, Annalisa Metta.
Art. 8 Those wishing to enter this year's competition are required to provide the Bruno Zevi Foundation, Via Nomentana 150, 00162 Roma, with the following no later than October 10th, 2023 as proved by a postage stamp on the envelope:
a) duly completed application form to be downloaded from www.fondazionebrunozevi.it, section Prize;
Link File PDF;
Link File RTF.

b) the complete text of the essay of a maximum of 80.000 keystrokes including notes, plus no more than 15 illustrations on a USB flash drive as well as one printed copy. Digital copy must show the title of the essay but not the author's name;

c) essay abstract of 1.000 keystrokes.
All the documents must also be submitted via email to info@fondazionebrunozevi.it
Art. 9 Essays entered in the competition which are not awarded the prize will not be returned. Copies will be catalogued and filed in a specific section of the Bruno Zevi Foundation Library at the disposal of its users.
Art. 10 The winner of the Prize will be notified via email, which will also be made public together with the name of recipient on the Foundation's website: www.fondazionebrunozevi.it.
Rome, July 17th, 2023
Adachiara Zevi
President of the Bruno Zevi Foundation